6 Tips on How to Prevent Your Electric Adult Scooter from Theft
Feb 08, 2023 by KUGOO Scooter USA
Electric adult scooters are increasingly popular among big cities due to their convenience, and lightweight for daily commuters.
However, its lightweightness and ease to carry cause many thefts. Here are 6 tips for you to better keep your scooter safe indoors and outdoors.
Tip 1: Purchase a solid car lock
Although electric scooters are easy to steal, the good news is that we can purchase car locks to reduce scooter theft.
A sturdy and practical car lock can protect your electric scooter to a certain extent. Of course, remember that it is best to lock the scooter on the bike rack.
There are many types of locks on the market. Let us have a look.
U-Locks
Due to its firmness and high security, the U-shaped lock has become the first choice of more and more people.
This U-lock requires pliers or power tools to open.
Generally, it is no problem to use the U-shaped lock to park the electric scooter outside during the day.
The only downside is that it is not very flexible and can be a bit heavier than other locks due to the sturdiness of the material.
In addition, your electric scooter must be able to install a U-lock, otherwise, it may not be your best choice.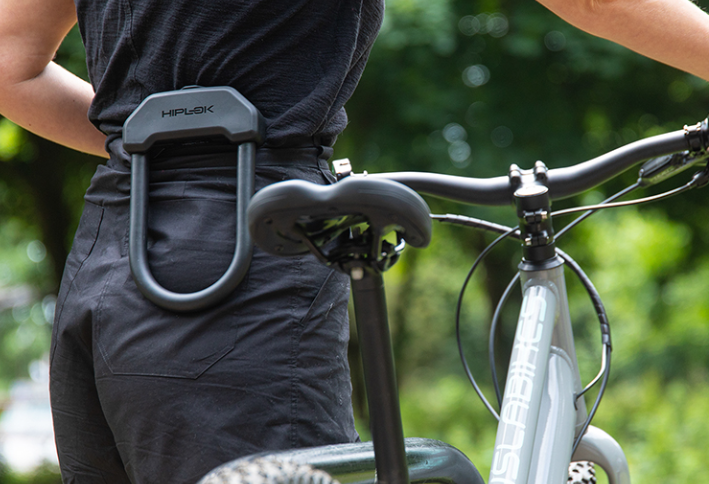 Chain Lock
Another high-security lock that replaces the U-lock - is the chain lock.
The chain lock is also relatively stupid, but it is more flexible than the U-shaped lock. You can buy two chain locks to lock the tires and it is not easy to cut.
A chain lock has two parts, a chain, and a padlock. When choosing, remember to choose a chain with an explanation, to improve the protection performance.
Folding Lock

Folding locks have become the choice of many people because of their portability and ease of operation. It can be folded into any shape and also locks your electric scooter well.
Then the lock is not strong enough and can be easily cut off. Therefore, it is only suitable for use in areas with low theft rates.
Disc Lock

The disc lock is more convenient to carry than the previous two locks. Much smaller in weight. You can put the disc lock on the rear wheel for easier and safer operation.
However, due to the way it locks, it is very easy for a thief to lift your e-scooter and steal it. Therefore, it is recommended to use disc locks with U-shaped locks or chain locks.
Cable Lock

Cable locks are also popular, and they are more flexible than other locks. However, it is only recommended for use in crime-ridden areas. A pair of wire cutters can destroy a cable lock in seconds.
You may be able to use it with other sturdy locks, such as U-locks and chain locks. Add double security protection to your electric scooter to prevent theft.
If you park electric scooters in places where the theft rate is low, such as corporate parks, residential areas, and campuses, then cable locks, folding locks, and even disc locks can meet your needs.
If you park on the road while riding, we recommend choosing U-shaped locks, chain locks, and other strong locks to protect your electric scooter.
Tip 2: Lock your electric scooter at all times
Even if you just go to the nearby convenience store to buy some food, you only need to park at the door for a few minutes. Don't forget to take a few seconds to lock your electric scooter, too.
Otherwise, the thief can easily ride the electric scooter away the moment you turn around. This will not pay off.
Tip 3: Install a Burglar Alarm
The anti-theft alarm detects that someone is trying to steal your electric scooter and makes a loud noise to deter thieves and alert people to theft.
These alarms are very effective in crowded places, which can attract the attention of the crowd, and the thief cannot steal the scooter quietly.
Tip 4: Find the Right Place to Park Your Electric Scooter
You can easily find some places to park shared electric scooters, or bicycle racks, which are very suitable for parking electric scooters and have relatively high security.
Under normal circumstances, if you park in these places and lock them well, your electric scooter can spend parking time safely.
Remember to pass the lock through the frame and lock it on the electric scooter.
You can observe the car locks that other people buy, what kind of locks they bought, and how to lock them. This way the rate of theft in the area can be observed.
If they also come with strong heavy-duty locks, then you'd better buy the strong locks too.
Tip 5: Pick an electric scooter with a key start
An electric scooter is equipped with a key, if the key is not inserted, the electric scooter cannot be started for riding. Then thieves will also tend to steal electric scooters that don't need a key to start.
Tip 6: Raise anti-theft awareness
Even if it is parked in the yard of your home, remember to lock it. If possible, you can install a fixed object similar to a bicycle rack in the yard of your home, and then lock the scooter on it.
Final thoughts,
Keeping your
electric adult scooter
shouldn't be a trouble when you take actions to protect the scooter while parking.
If you live in a place with low theft crimes, then a regular lock can help.
Hopefully, the tips in this article have given you some good ideas on how to protect your scooter, so now you can take action and enjoy this convenient and eco-friendly mode of transportation.