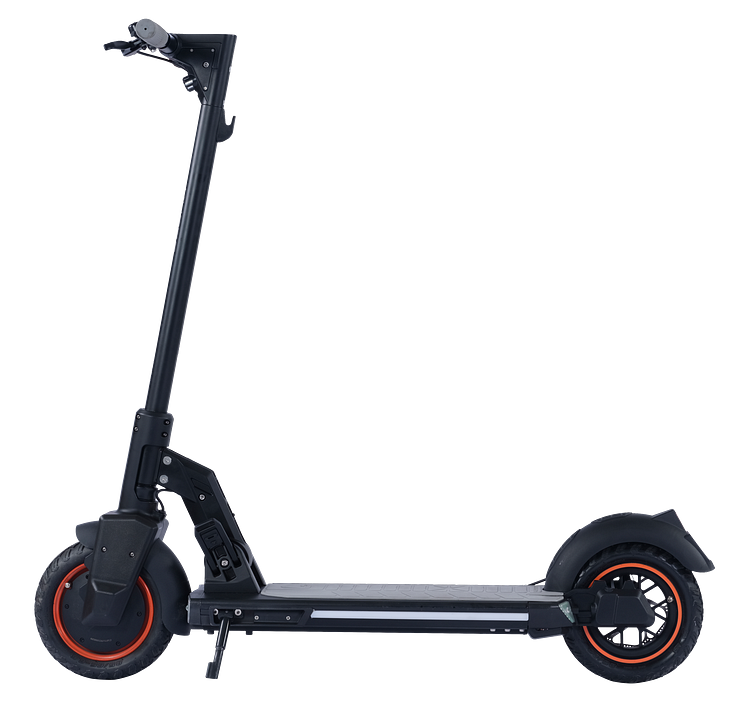 Highlights

Highlights Of G5

LONGER DISTANCE

Super-loaded 16AH battery capacity! Enjoy the extra-long journey time anytime, anywhere!

UNIQUE LIGHT SYSTEM

Besides headlight and taillight, G5 is equipped with turn signal and side light. Make the riding safer and more visible at night.

A compact SIZE WHEN THE SCOOTER IS FOLDed

Foldable and portable electric scooter. Quick folding system, easy to carry.

Safe riding

10-inch pneumatic tires and double shock absorption make your ride more comfortable. Disc brakes and electric brakes are more responsive, faster and have shorter response distances to ensure safe braking at high speeds.

long-distance city scooter

16AH battery capacity enables the city scooter a much longer distance than other scooters can do. G5 can provide you with a long journey up to 50 miles!

Choose your speed to suit your style

A simple one-click switching design makes switching speed a breeze. The speed display keeps track of the driving speed at all times! Three different speed levels and choose one to suit your style!

SUPER WIDE

The wide 8.7'' platform gives your feet more room to stand, which also makes it possible for you to place your backpack on it. It also makes your ride more comfortable.

COMPACT AND CONVENIENT

Kugoo G5 provides you with a comfortable and safe last-mile solution to your daily commute. Thanks to the folding mechanism the scooter is also easy to take with you to public transport or inside for charging as well.

TECHNICAL SPECS

Extra-wide deck

8.7" Wide deck helps you to find a comfortable riding position and control the scooter with ease.

Rear light

Bright braking light increases your visibility to other traffic and lets you ride safely at night.

Bright headlight

Located at the top of the stem G5's bright headlight help you to find your way even in poor visibility conditions.

Ergonomic T-Bar

Ride comfortable with adjustable height T-bar which has all the controls you need easily accessible.

Disk Brakes

The high-performing disc brakes keep stopping distances short and the scooter easy to control.

LCD

Bright LCD screen displays all the information you need at a glance even in bright conditions.
Specs

Range

70-80 km/43-50 miles

Brake System

EABS & Disc Brake

Tires

10'' Pneumatic tires

Size-Unfolding

43.3*9.8*17.8 inch

Size-Folding

43.3*20.9*19.5 inch

Data of specs are typical values in lab settings for your reference only, and could be impacted by riding style, weight, terrain, and weather.
Other specs are typical values for your reference only.KUGOO shall be entitled to change without notice for any technological innovations.
What's in the box

| NO. | PARTS | QUANTITY |
| --- | --- | --- |
| 1 | Your New Electric Scooter | 1 |
| 2 | Charger | 1 |
| 3 | Charging Adapter | 1 |
| 4 | Installation Kit | 1 |
| 5 | User's Manual | 1 |
Shipping&Orders


1. How does my order get processed?
All the orders will get dispatched directly from our LA warehouse within 2 working days. It would usually take 3-5 workdays to get the package delivered.

2. How can I change or cancel my order?
If you want to change or cancel your order, please contact us as soon as possible. Our relevant staff will get in touch with you immediately. Your order could be modified or refunded only before we ship out the item. Feel free to reach out to us at [email protected] for additional help.

3. Do I need to pay for the shipping and taxes/duties?
KUGOO

provides free shipping to the Contiguous United States for all scooters(Islands like Alaska, Hawaii, and Guam are not available for delivery service). All

taxes/duties will be covered. For Canada customers, please check the below list for more details.

4. Why shipment delay?
Most cases of delays will be caused by holidays, natural disasters, or carrier delays. If you need any additional help, please contact our customer service.

5. My order never arrives. What should I do?
If you haven't received your package within the standard delivery times, please follow the steps below.

Check the status of your order with the tracking number first
Contact our customer service immediately for assistance.

6. Missing items or damaged items?
Please contact us without any hesitation. It would be appreciated if you notify us of any missing item or mistake within 3 business days of receiving the order so that we would effectively make it right for you.

7. Can I pick up my order?
Unfortunately, the answer is probably no. For now, all products are shipped directly from our warehouse to customers.
Specs&Functions


1. What PSI level should I keep the tires inflated at?
We recommend inflating its tires to 31.9-34.8 psi (220-240 kPa).

2. What will affect the e-scooter range?
The actual range depends on a variety of factors such as battery status, tire pressure, load, temperature, wind speed, road conditions, and riding habits.

3. What is the maximum user weight?
220lbs or below would be the best-case scenario for riding. A heavy-loaded scooter will lessen your range and average speed. You could take it into consideration.

4. What is the longevity of the battery? Would it lasts a couple of years before having to replace?
Hi, generally, the charge and discharge cycle of a lithium-ion battery will officially end when it can reach 500 times. In terms of the most common use of electric scooters, we may charge once every 3 days on average, about 120 to 125 times a year, based on this frequency, if you have good maintenance, the battery of the electric scooter The life span is really long!
Riding&Maintenance


1. Can I use it on a rainy day?
KUGOOKIRIN Scooter does use some waterproof materials to prevent daily splash, but we do not recommend riding on a rainy day for any safety risk. A greater priority to KUGOOKIRIN is safe to use of our scooters. After all, it's an electric scooter.

2. Where to get my e-scooter fixed if I lived in NYC?
KUGOOKIRIN provides a reliable warranty that is processed in the most hassle-free way possible.

3. What should I pay attention to while riding a scooter?
Safety first, you should wear a helmet while start riding it and beware of the local weather, then watch for the hazards on the road, and never forget to lock up your scooter after a ride.

4. What can I do with this scooter?
Everything you hate about commuting is solved. Say goodbye to traffic, delays, and uncertainty. With a lightweight electric vehicle, you can hop in the bike lane and on local streets and get wherever you need to go faster than ever before.

5. Can I ride my scooter in the snow?
Hi, we don't recommend you ride it in the snow, it's dangerous, and the battery will run out faster than normal under 0 ℃.

6. Can this overcharge if stayed plugged in overnight?
No, however, we do not recommend charging the scooter for longer than a maximum of 24 hours.

7. Does the speed become slower as the battery level is lower?
Yes. The more battery power is consumed, the lower the voltage, and the corresponding maximum speed will be slower.