How to Choose Electric Scooter for Kids - What to Know
Aug 12, 2022 by KugooKirin USA Official Store
Electric scooters for kids are the best way to let your kids have fun outdoors without spending too much. The electric scooters for kids only have an extra motor and battery attached to the scooter than a normal kick scooter. And it works the same as electric scooters for adults.
In general, you don't have to worry about the safety of electric scooters for kids since it is designed for fun for kids, so it always comes with low max speed and short range.
Why does choosing an electric scooter for kids matter?
Not all electric scooters are suitable for your child. Different children have different weights, and it is especially important to choose an electric scooter with a loading weight. Otherwise, it will affect the actual riding effect and less fun for your kids.
Different children have various needs for riding distance. Therefore, listening to your kids' riding needs can also help you pick out the perfect scooter toy for them. Thus, it can better satisfy the happiness of children.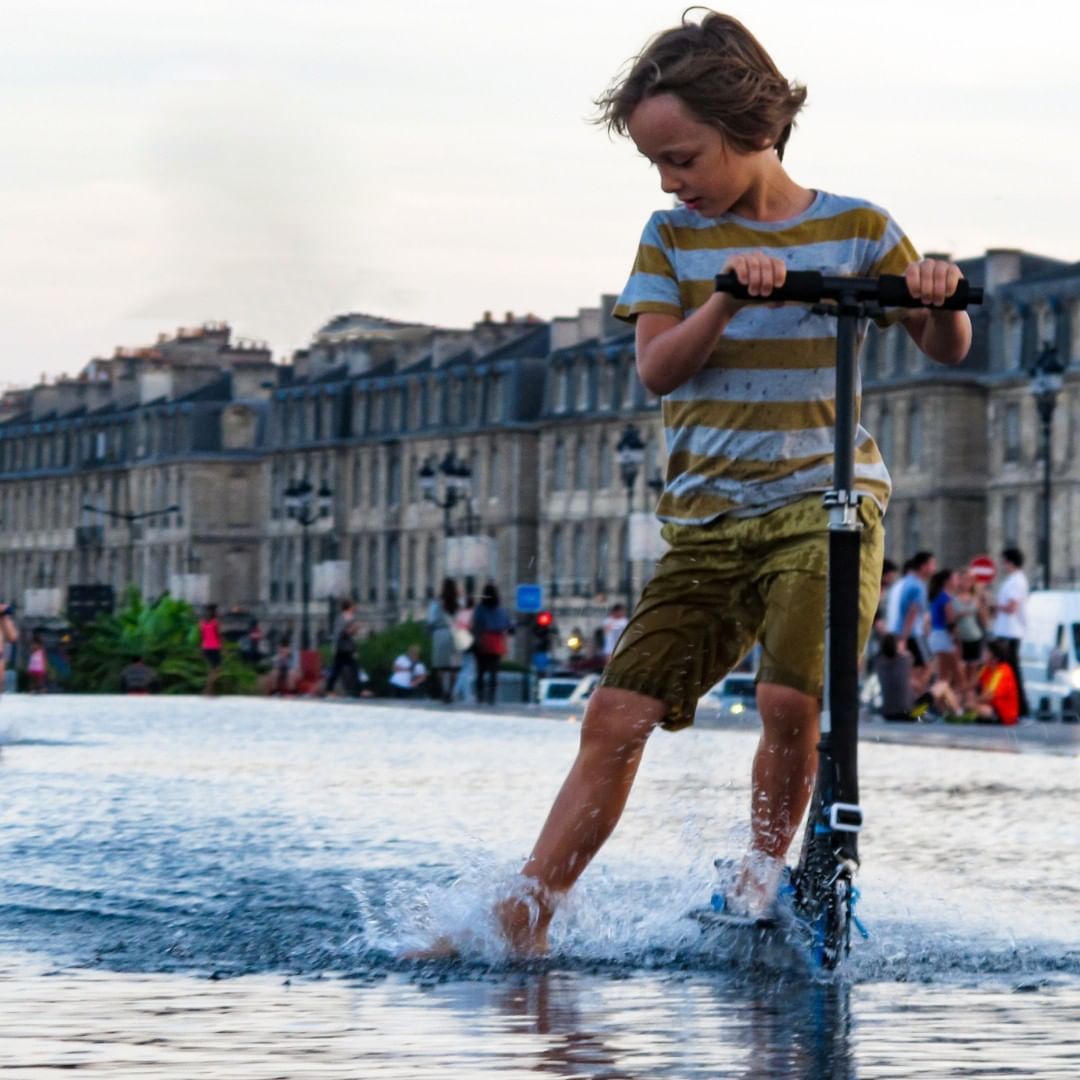 So, how do we choose the right electric scooter for our children?
How do choose electric scooters for kids? (What to know)
Things to consider before purchasing an electric scooter for your kids
What are your kid's weight and the scooter's max load?
Find out a scooter that overcovers your kids' weight and has a little more left.
Most electric scooters for kids have a maximum load of 120 pounds. If your child is close to 120 pounds, then carrying a schoolbag at this time can easily exceed this limit.
Therefore, we should choose an electric scooter with more loading weight than our kids' weight.
If you ride an electric scooter overweight, it is undoubtedly a very dangerous thing.
KugooKirin has an electric scooter specially designed for children - the Kugoo Kirin Mini 2, with a maximum loading capacity of 143 pounds, available in black and white colors, but currently only available in Europe.
How fast and how long can electric scooters for kids go?
In most cases, the top speed of electric scooters designed for kids is only about 9mph (15 kph). Some electric scooters for kids even have a non-zero start, which means that the throttle can only be started after pushing the scooter to slide with a kick of the feet. Such safety settings can better ensure the kids' riding, and also make it easier for some timid children to learn and enjoy the fun of electric scooters boldly.
Electric scooters for kids usually don't have extremely large and heavy batteries, and usually don't have a long riding range. The longest riding distance of the Kugoo Kirin Mini 2 is 6.2 miles (10km). It's not a long distance, but a full charge (4-5h) will also allow your child to ride and play nearby as much as they want.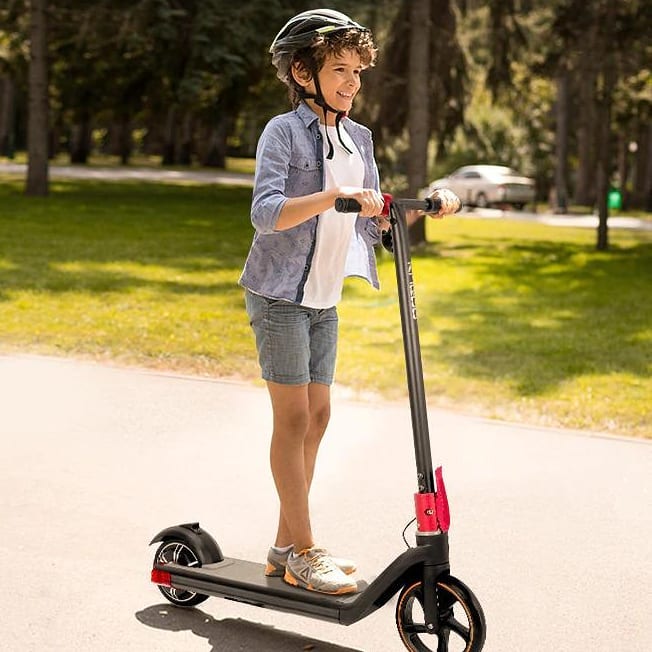 The assembly and storage of electric scooters for kids.
Generally speaking, the assembly of electric scooters for kids is also very simple. After receiving the package, you just need to unfold the electric scooter, simply unscrew the screws on the pole, and then inflate the tire to the proper tire pressure.
The next step is to fully charge the electric scooter before riding outside.
The weight and size of electric scooters for kids are also not very large. Therefore, they can be easily folded up and put in the trunk of the car for taking out for children to play; they will not take up too much space when stored at home, and children are free to can use and carry the electric scooter easily and simply.
Price
Most electric scooters for kids don't cost more than $300. Since the configuration of electric scooters for kids is not high compared to adult electric scooters, the cost is usually not high. So you might get a decent kids' scooter for less than $200 as well.
Safety riding tips for kids
Check if the electric scooter works well
Be sure to let the child check whether the functions of the electric scooter are normal every time the child goes out to ride with the electric scooter, like the brakes, accelerators, tires, etc. Each ride inspection only takes a few minutes, but it can eliminate more safety hazards.
Always wear a helmet
Although the maximum speed of electric scooters for kids is very slow compared to adult electric scooters, it is still necessary to wear a helmet. Even running and playing are prone to the danger of falling, not to mention falling from a moving electric scooter. It is essential to take the most basic safety measures.
Of course, you can also buy more elbow pads and knee pads for your child to give your child multiple protections. Reflective pads allow your child to ride more safely in the darker evenings.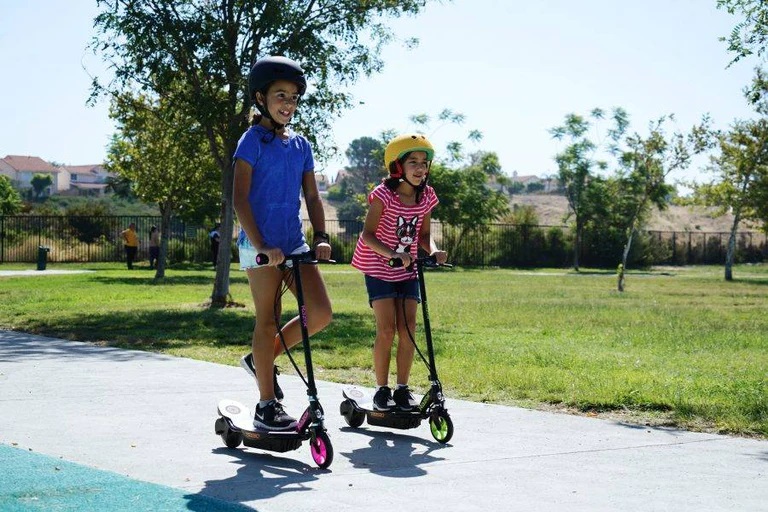 Don't let other friends ride electric scooters
One more person riding on the electric scooter will make the scooter lose its balance.
No matter how much fun your child has with friends, be sure to warn your child not to let his friends step on the pedals and share the joy.
Don't hang things on the handlebars
It may happen a lot that your child tends to hang clothes or other items on the handlebars after school, however, this can easily throw the scooter off balance and make riding dangerous. Clothes or other things hanging on the handlebars can also easily get caught on the wheels.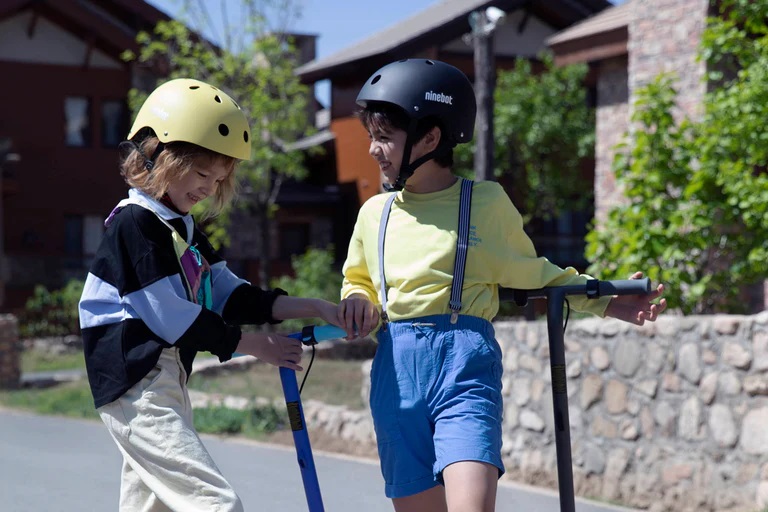 Ride in a safe area
Most kids are so excited when they receive the new electric scooters that they will want to ride them everywhere. However, many sidewalks with many people and traffic-congested driveways are not suitable for your children to ride.
Parents can choose a safe area for their kids or a street with bike lanes but fewer riders. Park is also a preferable option.
Frequently asked questions about electric scooters for kids
Are electric scooters for kids worth it?
Electric scooters for kids are generally suitable for kids above eight. If your kids are under eight, choosing the kick scooters for them to play with would be a wiser choice. Electric scooters for kids are designed with lower speeds, so no worry about speed safety. Your kids can enjoy more fun if fully gear up as well as more outdoor exercise time!
What size of electric scooter do kids need?
| | | |
| --- | --- | --- |
| Person Height | Approx. Agrecommended | Recommended Scooter Height |
| 126-138 cm | 7-9 yr | 65-79 cm |
| 138-149 cm | 9-11 yr | 75-80 cm |
| 149-160 cm | 11-13 yr | 75-85 cm |
| 160-172 cm | 13-15 yr | 78-85 cm |
| Over 172 cm | 15+ yr | 79+ cm |
Can an 11-year-old have an electric scooter?
Electric scooters for kids are safe and fun enough for kids to ride. The max speed for electric scooters for kids arisen from 6mph to 15mph. Since most electric scooters for kids have one speed of between 6 mph and 15mph. Most 1111-year-old kids will be fine with 10mph.
Summary
There are a few things to keep in mind when choosing an electric scooter for kids. First, consider the child's age and weight. Second, think about the speed and range your kids want. Third, decide on an anon portable lightweight electric scooter for kids. Fourth, set a budget. What's more, read reviews to get an idea of quality and customer satisfaction. With these factors in mind, you'll be sure to find the perfect electric scooter for kids!