How to Choose an E Scooter Off Road for adults?
Dec 12, 2022 by KUGOO Scooter USA
Tiny wheels, lightweight body, simple appearance. Is this also your usual impression of electric scooters?
However, off-road electric scooters will break your perception of ordinary commuter electric scooters. The emergence of off-road electric scooters has not only greatly improved the comfort of electric scooter travel, but also increased the fun of commuting.
What is an e scooter off road for adults?
Off-road electric scooters usually have higher configurations, so they tend to be sturdy, and offer higher power and higher capacity batteries. Usually, the tires of off-road electric scooters are also PU rubber tires that can handle all kinds of rugged terrain. This kind of off-road electric scooter is often able to drive well on hills, gravel roads, and rough roads with ease, but of course, that doesn't mean they can't get a flat tire.
If your riding section is not so flat, then choose an off-road electric scooter that will allow you to ride comfortably, and smoothly, and travel with ease.
Comparison of 7 off-roading Kugoo e-scooters
| | | | | | | | |
| --- | --- | --- | --- | --- | --- | --- | --- |
| Model | Kugoo Kirin Q06 Pro | Kugoo Kirin Q30 | Kugoo Kirin G3 | KuKirin G2 Max | Kugoo Kirin G2 Pro | Kugoo G2 Pro | Kugoo Kirin M4 Pro |
| Range | 31-43 miles | 20-28 miles | 37 miles | 43-49 miles | 34 miles | 28 miles | 37-43 miles |
| Motor | Dual 2600W | 1200W | 1200W | 1000W | 600W | 800W | 500W |
| Tires | 11'' tubeless pneumatic wheels | 11'' tubeless pneumatic wheels | 10'' Tubeless tires | 10'' Pneumatic wheels | 9'' Pneumatic wheels | 10'' Pneumatic wheels | 10'' Pneumatic wheels |
| Brakes | Dual Hydraulic Disc Brake | Dual Disc Brake | Disc Brake System | Dual Disc Brake | Dual Disc Brake | Dual Disc Brake | Dual Disc Brake |
| Battery | 60V 27AH | 48V 16Ah | 52V 18Ah | 48V 20Ah | 48V 15Ah | 48V 13Ah | 48V 18Ah |
| Weight | 39 kg/89 lbs | 31 kg/ 68 lbs | 55 lbs/25 kg | 68lbs/31kg | 58.8 lbs/26.7 kg | 52 lbs/23.5 kg | 49.8 lbs/22.6 kg |
| Dimension | 130*63.5*118 cm | 130*63.5*118 cm | 119.9*129*66 cm | 126*60.5*130 cm | 118.6*62*131.6cm | 120*62*121cm | 115*60*120cm |
| Folded dimension | 123*63.5*37 cm | 123*63.5*37 cm | 119.9*55*66 cm | 126*60.5*58 cm | 118.6*62*59cm | 120*62*50.1cm | 115*22*45cm |
| Official price | $1499 | $1099 | $1099 | $999 | $799 | $859 | $679 |
Overseas Reviews on the KugooKirin YouTube channel.
Why do you choose e scooter off road rather than a commuter e-scooter?
Off-road electric scooters are usually made of stronger materials, so the body quality will also be higher compared to the normal models. The stronger body is also able to ride better in various terrains without being prone to wear and tear damage, and therefore has a longer service life. This can reduce the number of repairs and save on riding.
Off-road scooters always equip with powerful motors and large batteries, which will enable high speed, and long range. Usually, there are shock absorbers systems in off-road scooters. The off-road e scooters can offer you primary riding feelings.
Dirt, grass, gravel, dust, sand, pebbles, pebbles, puddles, or hilly terrains, off-road e scooters can handle all terrains roads and never lets you down. You can enjoy the comfort while on an extremely high-end off road escooter! What's more, you can find suspension and shock absorbers with the scooter, which add a lot to the riding comfort. Get an off-road escooter, and just enjoy the fun of escooting!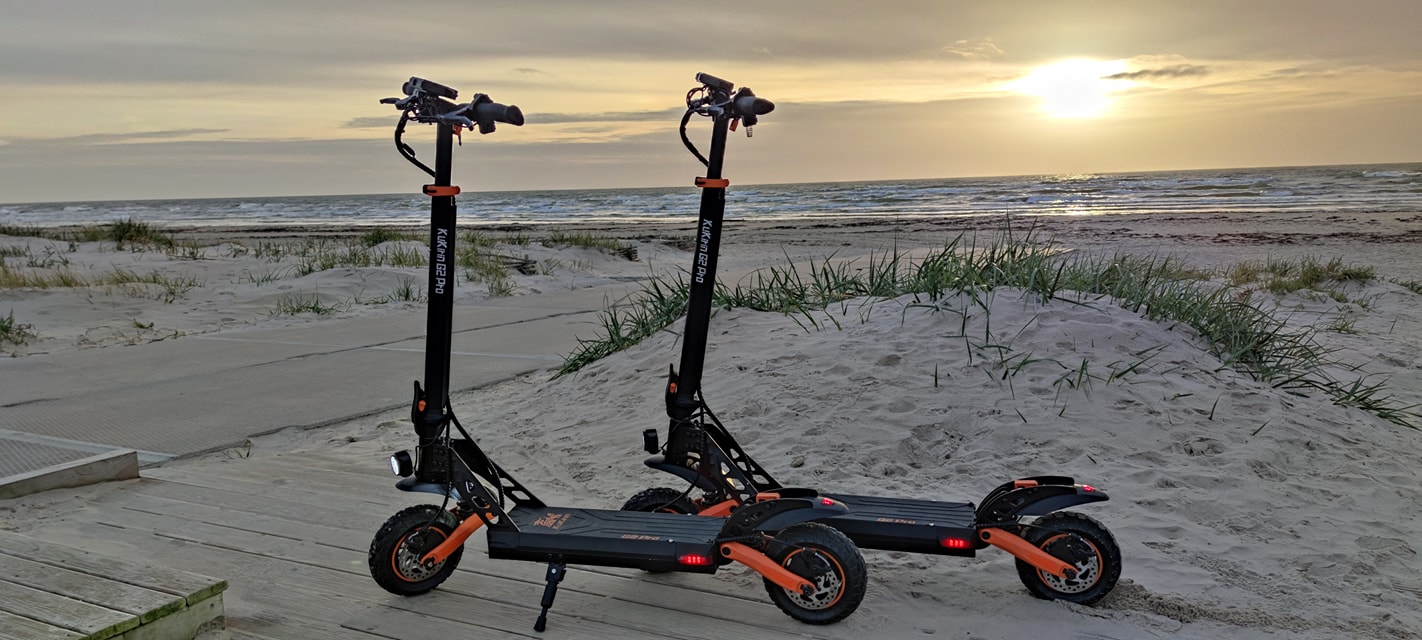 How to choose an e scooter off road for adults?
We all know an off road scooter has many advantages so choosing the right one is of great importance.
It is not hard to choose the right one for yourself, just focus on these several factors and you can make a satisfactory purchase.
The motor plays a big role in boosting speed. Usually, a high-powered motor allows you to go over rough terrain or uphill better over that stretch of road. Off-road scooters always come with powerful motors since they play an important role in high performance. The more powerful motors are, the better off-roading experience you have.
The battery is the part that provides power to start the scooter. Battery with large capacity can save you so much trouble like out of power halfway. The battery also influences the range, drive, speed, etc. A large battery can offer you a longer range and higher speed. Pay attention to the battery and get yourself a long-lasting escooter. Of course, it takes a longer time to get your battery fully charged.
Weight and loading weight
Yes, an escooter with a powerful motor and a large battery is very tempting. It sounds like you can enjoy an extremely crazy riding time on the scooter. However, don't forget to check the weight of the scooter. It is best if you can lift the scooter if necessary. There is so much time that you happen to carry the scooter, such as getting it into your truck or taking it to the subway, getting it upstairs, etc.
Although off-road escooters typically bare a higher loading weight, remember to check the loading weight and don't forget to add your normal carrying stuff weight. The loading weight also impacts your riding performance so that is vital.
What's more, other factors, like speed, design, suspension, brake system, etc. You can pay attention to them as well to look for a wonderful off road escooter for yourself.
Final words
If you are considering buying an e scooter off road, then it is a must to take factors like motor, battery, design, weight, and loading weight into consideration. A high-performance off road escooter can give you the ultimate cycling experience and reap the joy of riding.