How Do You Use an Electric Adult Scooter for Beginners in 2023?
Feb 21, 2023 by KUGOO Scooter USA
Are you thinking about buying an electric scooter for adults but you are afraid of not being able to ride it? If so, you're in luck. In this article, we will cover the things to prepare before riding, how to use an adult electric scooter for beginners, some riding tips, and safe ride suggestions for you.
Before
You
Ride an Electric Adult Scooter
:
1. Read the user manual. Make sure you understand the features and controls of your electric scooter, as well as its safety precautions.
2. Check for any damage. Make sure the tires, brakes, and other components are in good condition, and make sure the battery is charged.
3. Wear the proper safety gear. Always wear a helmet and other protective gear, including gloves and elbow/knee pads.
4. Check the local laws. Make sure you are following all relevant laws and regulations in your area.
How
to
Use
an
Adult
Electric
Sc
ooter
for
Begin
ners in 2023
:
1. Start slow. When learning to ride an adult electric scooter, start slowly so you can get used to how it feels and how it responds to your commands.
2. Balance your weight. To prevent the electric scooter from tipping over, make sure to evenly distribute your weight between the handlebar and the footrest.
3. Accelerate gradually. When accelerating, do it gradually so that you don't lose control of the electric scooter.
4. Stay alert. Always be aware of your surroundings and watch out for obstacles in your path.
10
Riding
Tips
of Electric Adult Scooters for
Begin
ners
:
1. Practice in a safe area. Before taking your adult electric scooter out on the road, practice in a safe area such as a driveway or a parking lot.
2. Slow down when turning. When turning, slow down to maintain control of the electric scooter.
3. Look ahead. Always look ahead and plan your route to avoid any obstacles or hazards.
4. Scan for traffic. Always be aware of your surroundings and watch for other vehicles or pedestrians.
5. Watch your speed. Stick to the speed limit and slow down when necessary.
6. Avoid wet surfaces. Electric adult scooters can be dangerous on wet surfaces, so avoid them if possible.
7. Brake early. When approaching a stop, brake early to give yourself plenty of time to slow down.
8. Watch out for potholes. Potholes or other obstacles can cause you to lose control of your electric scooter, so watch out for them.
9. Don't ride at night. It's safer to ride during the day when you can better see potential hazards.
10. Don't ride in bad weather. Avoid riding in bad weather, such as rain or snow, as it can make it difficult to control the electric scooter.
How to Ride Electric Adult Scooters Safely for Beginners:
1. Wear a helmet. Always wear a helmet and other protective gear when riding an electric adult scooter.
2. Follow traffic laws. Obey all traffic laws and regulations in your area.
3. Be visible. Make yourself visible by wearing bright clothing or attaching reflectors or lights to your electric scooter.
4. Stay focused. Avoid distractions while riding, such as talking on the phone or listening to music.
5. Don't ride under the influence. Never ride an electric scooter while under the influence of drugs or alcohol.
6. Don't ride on sidewalks. Unless allowed by law, don't ride on sidewalks as it can be dangerous for pedestrians.
Best Adult Electric Scooters for Beginners
* 350W Motor | 36V 7.5Ah Battery | 18.6 Mile Max Range |

$100

off

(Spring Sale Price)
Kugoo M2 Pro adult electric scooter. The adult scooter includes an LED headlight and a rear light for better visibility at night.
There is extra cushioning in the front and rear wheel axles for added safety. Our landing is cushioned by powerful shock absorbers.
Make your riding experience more comfortable and safe. The scooter has 8.5-inch-wide tires that do not require inflation. The tubeless tires are made of a strong material that will not be punctured. It improves grip, stability, and steering performance.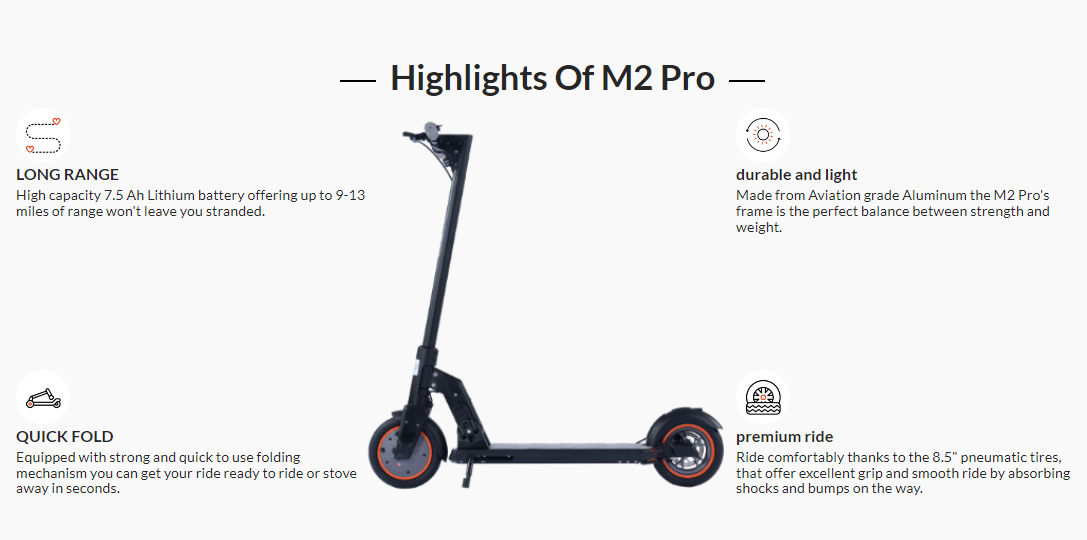 * 350W Motor | 36V 10Ah Battery | 20-24 Miles Max Range |
$459.00 - Limited Stock!
Kugoo Kirin S4 electric scooter for adults is the best portable city commuting scooter.
Only 29 lbs, easy to carry, good to go anytime, anywhere. 10-inch PU tires, strong shock absorption, give you a comfortable ride. :)
Final Words:
We hope this article has helped you understand the basics of using an electric scooter for adults. With the right scooter and the proper safety techniques, you'll be able to enjoy the freedom and convenience of your electric scooter for many years to come!